Last Tuesday was the September edition of IndieWorks! And it was our annual web series month, where we screen episodes from local series. We screened 6 episodes total and had over 40 people in house. Smaller crowd than usual, but considering the rainy evening, it was quite an impressive turnout! Web series month is always a special one because it's nice getting to meet characters we could tune into over and over again. And web series in general tend to be comedy leaning, so it was an overall fun night filled with a lot of laughs. Unfortunately, one of our filmmakers had to cut out before their Q&A, but otherwise the night was a real success with thoughtful discussions and lots of mingling!
We'd just like to say thank you to everyone who came out to support the filmmakers and spend the evening with us & them. We do hope you enjoyed all the webisodes and the opportunity to network with other filmmakers and film enthusiasts. We know some connections were made! AND we hope you'll join us again for our Halloween Special on October 24th!
See photos from the evening: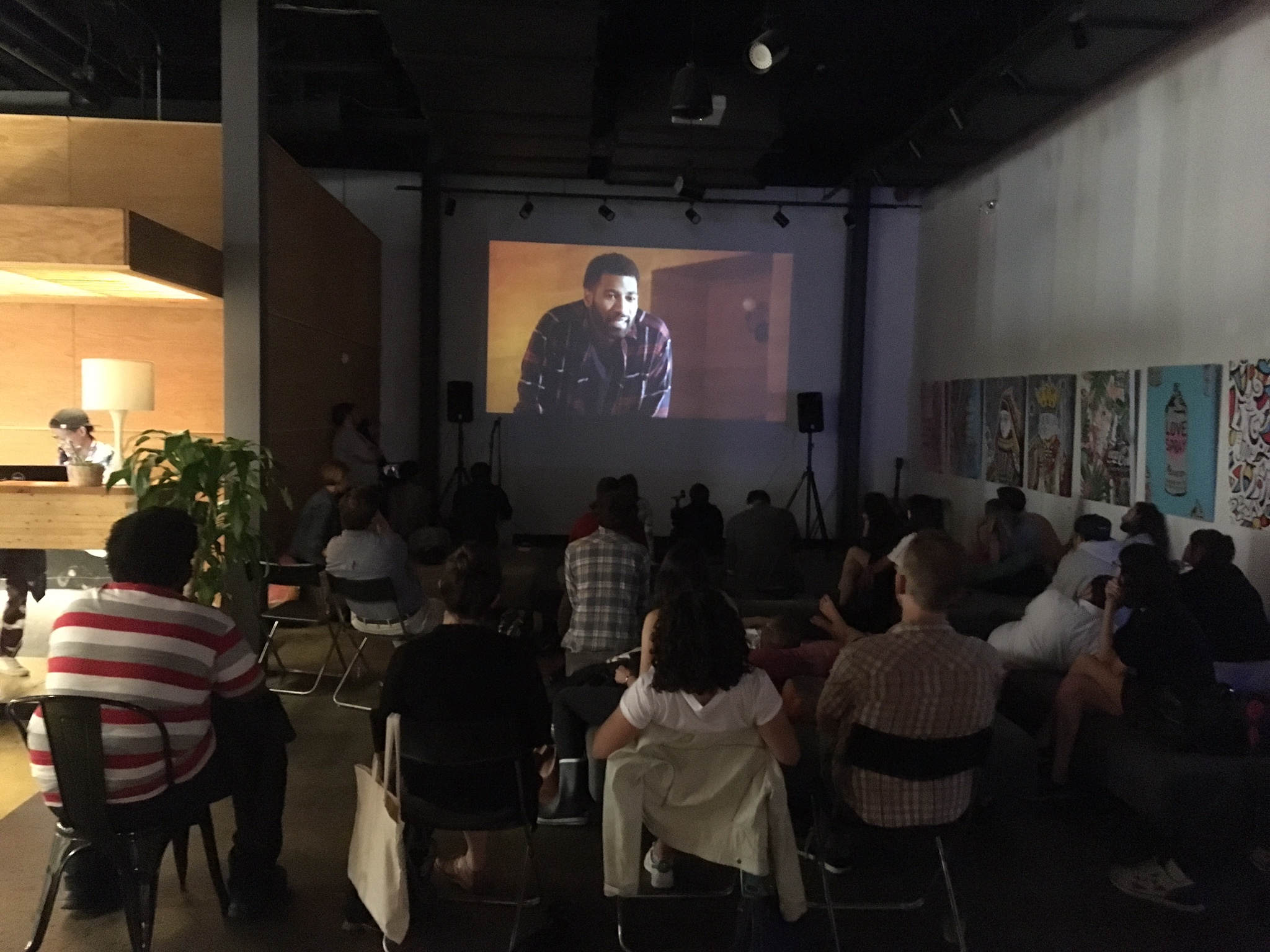 Pair of Normals (Created (written & directed) by Jason Hood)
Iris, an anxious Youtube psychic fresh out of a mental hospital, and Betty, a destitute college dropout who makes ASMR videos, meet and bond when they are dragged to a vlogger meetup. When they meet again in a chance encounter after both their lives have worsened significantly, Iris offers Betty a place to stay.
You Only Die Once (Created (written & directed) by Amanda B. Goodman)
A 6 episode modern horror comedy web series that tells the story of three life long best friends and vampire hunters from Astoria Queens as they face the biggest threat to their family yet.
Modern Aliens (Written & Directed by Jordan Jaffe, Produced by Samantha Slater)
The documentary periodical comedy series dedicated to unearthing alien influence in modern society.
[Blank] My Life (Created & Written by Alex Spieth, Directed by Benjamin Viertel)
In episode 5 of season 2, Susan realizes rape culture isn't that far from home.
Seeking Sublet (Created (written & directed) by Katie Tibaldi)
A new comedy web series about two roommates in search of the perfect third roommate in New York City. Think you've had bad roommates? Tune in. Commiserating begins here.
Keep Me Posted (Created (written & directed) by Hillary Berkowitz)
WA biting look at the impact of texting and social media on our closest relationships.
Watch our Q&A Recap (shot & edited by Kimberly Drew Whiten). The perk of web series month is that the episodes can be watched online NOW to offer context to the Q&A! Find most on Youtube!
The award goes to...
At the end of the evening, we announced our winning filmmaker of the Audience Choice Award. We've realized from past years that web series episodes always feel a bit confusing alongside all standalone films at Best of Fest, so we decided moving forward that at our specialty months we'll just award one audience-selected winner all the monetary prizes. The winner receives $50 towards a crowdfunding campaign on SeedandSpark.com should they use the platform and a free Social Media audit ($200 value) from 4MileCircus.
For the September 2017 lineup, our winning series was:
Audience Choice Award: "Modern Aliens"