Tuesday was our July edition of IndieWorks. We screened 4 films and had over 50 people in house! All four dealt with grief and overcoming loss. The styles and genres varied, but all were compelling and extremely well done. Some thoughtful discussions were had. We, unfortunately, had patrons in the bar in back that were a bit noisier than usual at times. But, overall, the night was a big success!
We'd just like to say thank you to everyone who came out to support the filmmakers and spend the evening with us & them. We do hope all enjoyed the films and the opportunity to network with other filmmakers and film enthusiasts. We know some connections were made!
We hope you'll join us again for our August screening on the 14th - featuring a fun lineup of thrillers, scifi, and animation.
See photos from the evening: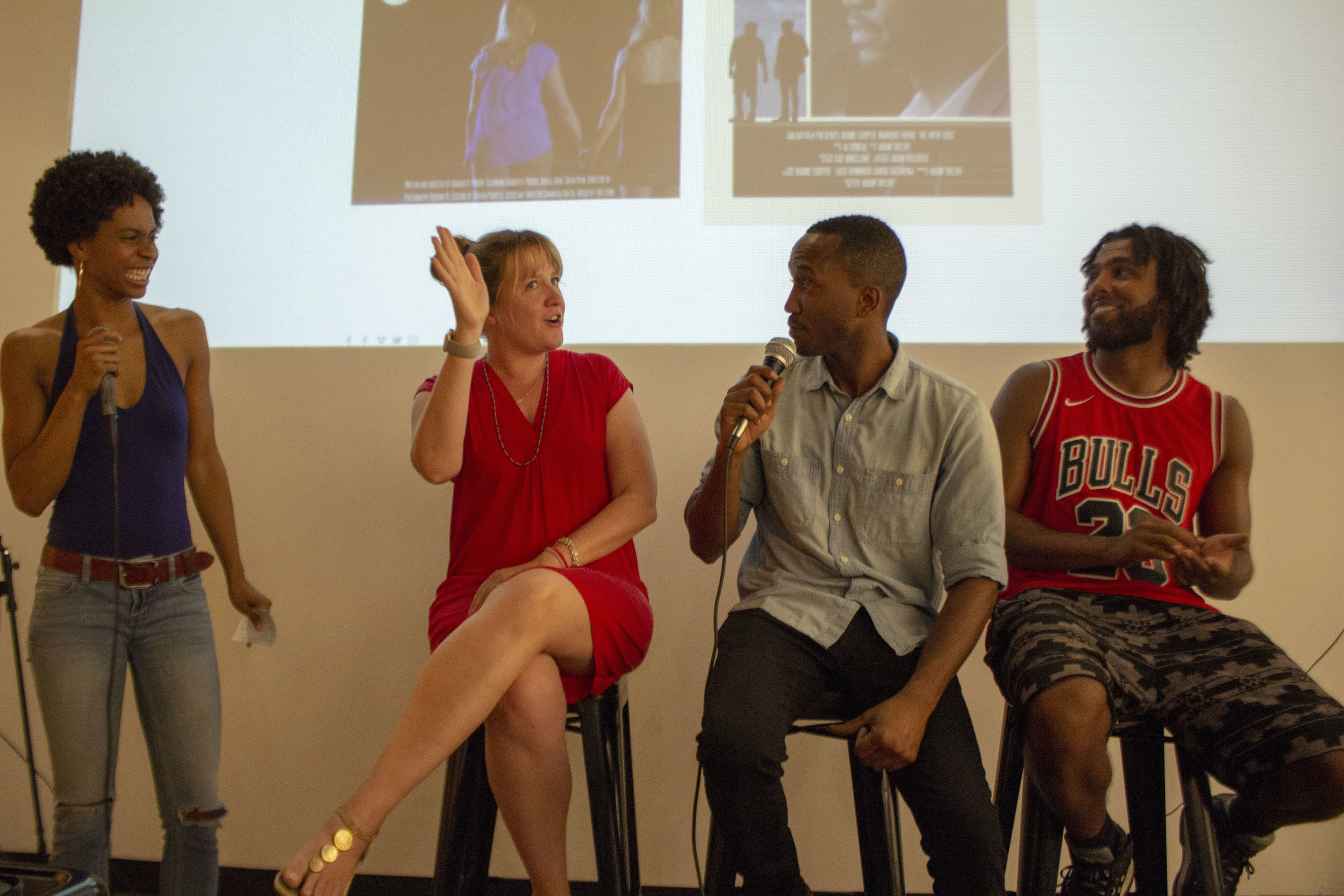 En Route (Directed by Pamela Harris, Written by Pamela Harris & Kathryn Rhoads, Produced by Elisabeth Ness)
Two estranged sisters must face each other for the first time in a year -- on the 6-minute ride to their deceased brother's memorial.
Tyrannosaurus Death! (Written & Directed by Adam Volerich)
A whimsical romp through suburban melancholy told through split timelines. We follow Russell, a traumatized loner who poetically narrates us through the past and present as he commits a life-altering faux pas and tries to bounce back from it.
Rockaway Moon (Written & Directed by Charlotte Purser)
After the loss of her husband, a young mother refuses to leave the house. One morning, her sister coaxes her out for a daylong adventure in their childhood neighborhood, Rockaway, Queens. Memories arise around every corner as they make their way to the beach.
We Were Kids (Written & Directed by Adam Taylor)
Unwelcome circumstances compel an equally unwelcome reunion for two long estranged brothers.
Watch our Q&A Recap. *Please know there are some film spoilers - feel free to look for an opportunity to catch the films at a festival or computer screen near you & then come back to watch!
The awards go to...
At the end of the evening, we announced our winning filmmakers for both Audience Choice Award & Silver Whiskers Award. The Audience Choice Award is voted upon by all those in attendance, and the Silver Whiskers Award is judged by the CongestedCat Team based on a rating system of 8 categories: Story, Dialogue/Writing, Direction, Acting, Cinematography, Sound, Editing, and Production Value, along with a nuanced discussion focused on inclusion and originality. The Silver Whiskers winner goes on to screen again at our end of year Best of Fest screening next April.
The Silver Whiskers winner also receives $50 towards a crowdfunding campaign on SeedandSpark.com should they use the platform and 50% off 4MileCircus' post-production audio cleaning service for a future project.
For the July 2018 lineup, our winning films were:
Audience Choice Award: "Tyrannosaurus Death!"
Silver Whiskers Award: "We Were Kids"