Last Tuesday was the November edition of IndieWorks! It was a surprising night in that we had our smallest turnout ever, in the nearly 5 years we've been doing this! We had exactly 27 people in house (not including our team). Not a bad turnout for a super cold night and a lineup of only 4 shorts; but it was still a surprise. Despite that though, we had a really engaged group for our eclectic and innovative lineup of shorts that included animation, scifi, and documentary; all playing into themes of changing societies and past vs present. Some very interesting conversations were had!
We'd just like to say thank you to everyone who came out to support the filmmakers and spend the evening with us & them. We do hope you enjoyed all the films and the opportunity to network with other filmmakers and film enthusiasts. We know some connections were made! AND we hope you'll join us again for our December screening on the 12th - for a grouping of films that tackle stories related to family!
See photos from the evening (by Elsa Nilert):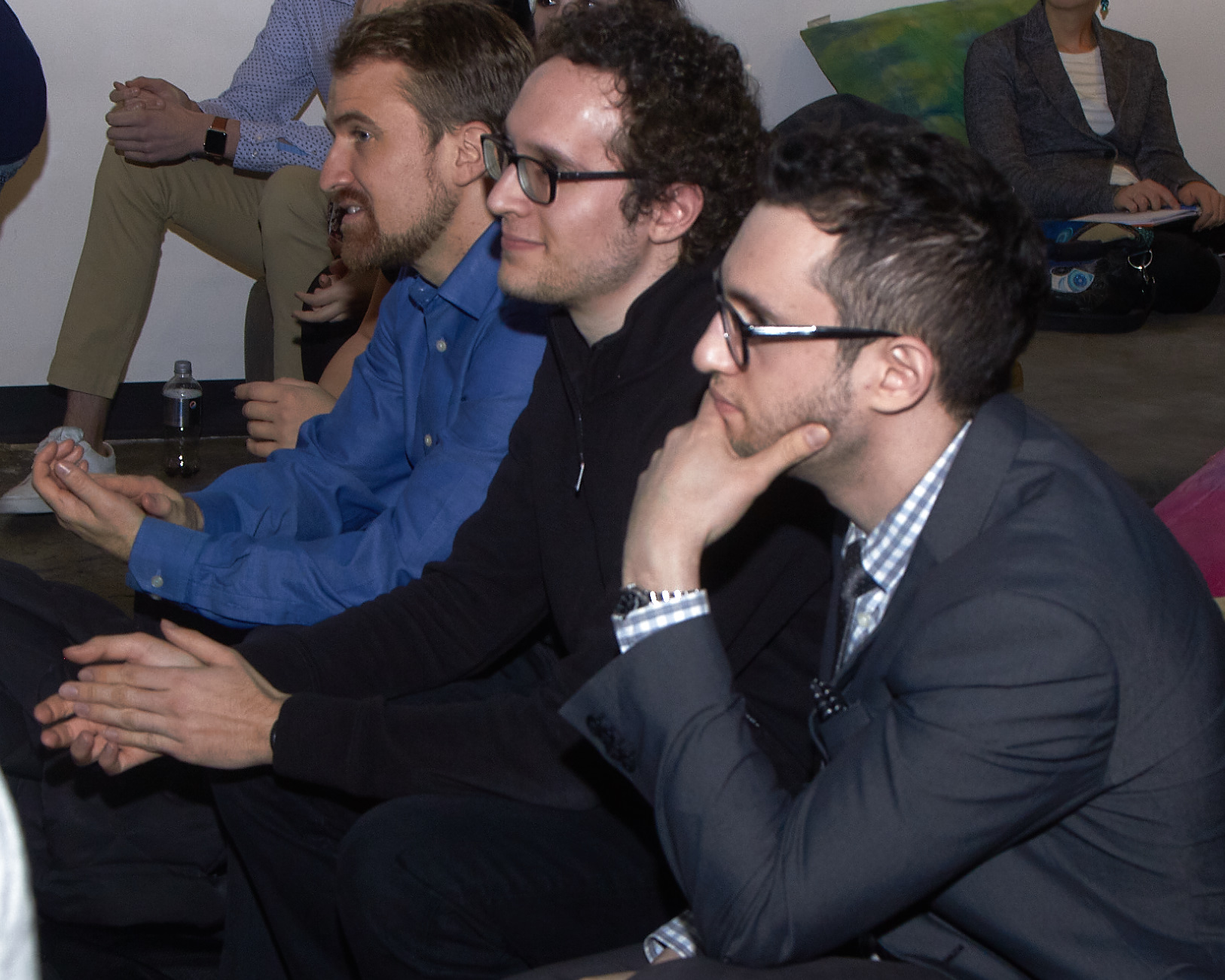 Rudy's Hobby Shop (Directed by Jason Guzman)
Marvin Cochran, owner of Rudy's Hobby & Art in Astoria Queens, let's us have a glimpse at the day-to-day in this once ice cream parlor, turned hobby shop. We get a chance to see what a day at Rudy's looks like, sample some the inventory and hear from customers.
Runaway (Written & Co-Directed by Harrison Heller, Co-Directed by Tommy Kraft)
Maria is an android on the run--falsely accused of murdering her master. Pursued through the woods by ruthless bounty hunters, Maria struggles to reach the Free States and maybe discover her humanity along the way.
Meeting MacGuffin (Written & Directed by Catya Plate)
In a post-apocalyptic future where humanity has fallen apart, a group of scientists and an animated sign complete the construction of a new human race and meet a groundhog climatologist who prepares them for their mission to restore balance to the decimated Earth.
Block (Written & Directed by Brandon Buikema)
Traditional animation is combined with stop motion to create a unique, handcrafted style. This style is used to tell the story of a young writer who needs some life experience.
Watch our Q&A Recap (edited by Kimberly Drew Whiten). *Please know there are some film spoilers - feel free to look for an opportunity to catch the films at a festival or computer screen near you & then come back to watch!
The awards go to...
At the end of the evening, we announced our winning filmmakers for both Audience Choice Award & Silver Whiskers Award. The Audience Choice Award is voted upon by all those in attendance, and the Silver Whiskers Award is judged by the CongestedCat Team based on a system rating 8 categories of Story, Dialogue/Writing, Direction, Acting, Cinematography, Sound, Editing, and Production Value, along with a nuanced discussion focused on inclusion and originality. The Silver Whiskers winner goes on to screen again at our end of year Best of Fest screening next April.
The Silver Whiskers winner also receives $50 towards a crowdfunding campaign on SeedandSpark.com should they use the platform and a free Social Media audit ($200 value) from 4MileCircus.
For the November 2017 lineup, our winning films were:
Audience Choice Award: "Meeting MacGuffin"
Silver Whiskers Award: "Runaway"