horror comedy
This past weekend, "Night In" screened at the Horrible Imaginings Film Festival. "Hello" screened last year and a few people emailed me to tell me how much they loved the short. So when I got in again this year, I knew I wanted to attend! Thanks to my job at Seed&Spark and the festival director enthusiastically agreeing to offer the Crowdfunding class I teach, I was able to attend the entire festival. Of the 60ish shorts, I saw 45! And I saw 4 out of the 5 in competition features. Every screening had at least 40 people in the audience, most had more. The films were all excellent. I have truly never seen better overall programming, especially at a horror festival. So much thought was put into the thematic blocks. And while I typically can't stand sitting through 10+ shorts in a row, I easily did that with these lineups because they were so engaging, fun, and thought provoking. The production quality and storytelling quality were high all around. And thankfully, unlike so many non-women-specific genre fests I've been to, there was no exploitative violence against women! That's always a worry (that often comes true) when sitting through horror lineups. My only issue is that not one of the 5 features was directed by a woman OR person of color. I know they had to work with their submissions, but considering I found the features to be the weak spot (only 2 out of 4 I saw were solid) of otherwise excellent programming, it's frustrating that they couldn't be more inclusive with them. The LGBT block feature (the strongest feature and a real show of commitment to inclusion), for instance, was not a submission but a recommendation by co-sponsors The Two Gay Geeks; so it's unclear to me why they accepted 2 mediocre (all-white and very male dominated, btw) features instead of inviting a deserving woman-directed (ideally WOC-directed) film, even if out of competition. All of that said, the shorts were wonderfully diverse and I truly loved getting to be part of the festival. I don't usually comment on the programming of a fest because I usually have negative opinions best kept to myself. But in this case, because it was so close to perfect, I had to bring this up. I hope next year is as well done but just more inclusive on the feature front! And I know Miguel Rodriguez, the festival director, will pay attention to that. He's truly a wonderful human being who has such energy and puts his whole heart into this fest. It really shows. It's one of the only festivals I've been to with no tech issues and was always on time. Miguel makes every filmmaker feel seen and appreciated. And he's just so genuine and thoughtful. He puts on a great show! And the way the community comes out to support is really inspiring and exciting.
As for my actual screening. I was in a fun block called Dark Wish Fulfillment. It had 10 shorts total and was the biggest Q&A with the highest filmmaker turnout -- 8/10 were there. We had over 60 people in the audience. Unfortunately, with such a big group in the Q&A and very little time for each film, I didn't really get to talk about my film - which was disappointing. I think being so short and in the middle of the lineup made us a bit overshadowed. But I was honored to be in such excellent company. And people did come over after to say they loved the twist. And it got HUGE laughs at all the right moments, so that was fun to watch with an audience. Overall, I'm grateful to have screened in this beautiful venue as part of such a great fest. And on top of that, I got to spend 2 days hanging out with fellow filmmaker friend Kim Garland (who recently moved from NY to LA) because her excellent short, "Body Image," also screened -- in the block before mine! I definitely hope to attend again next year!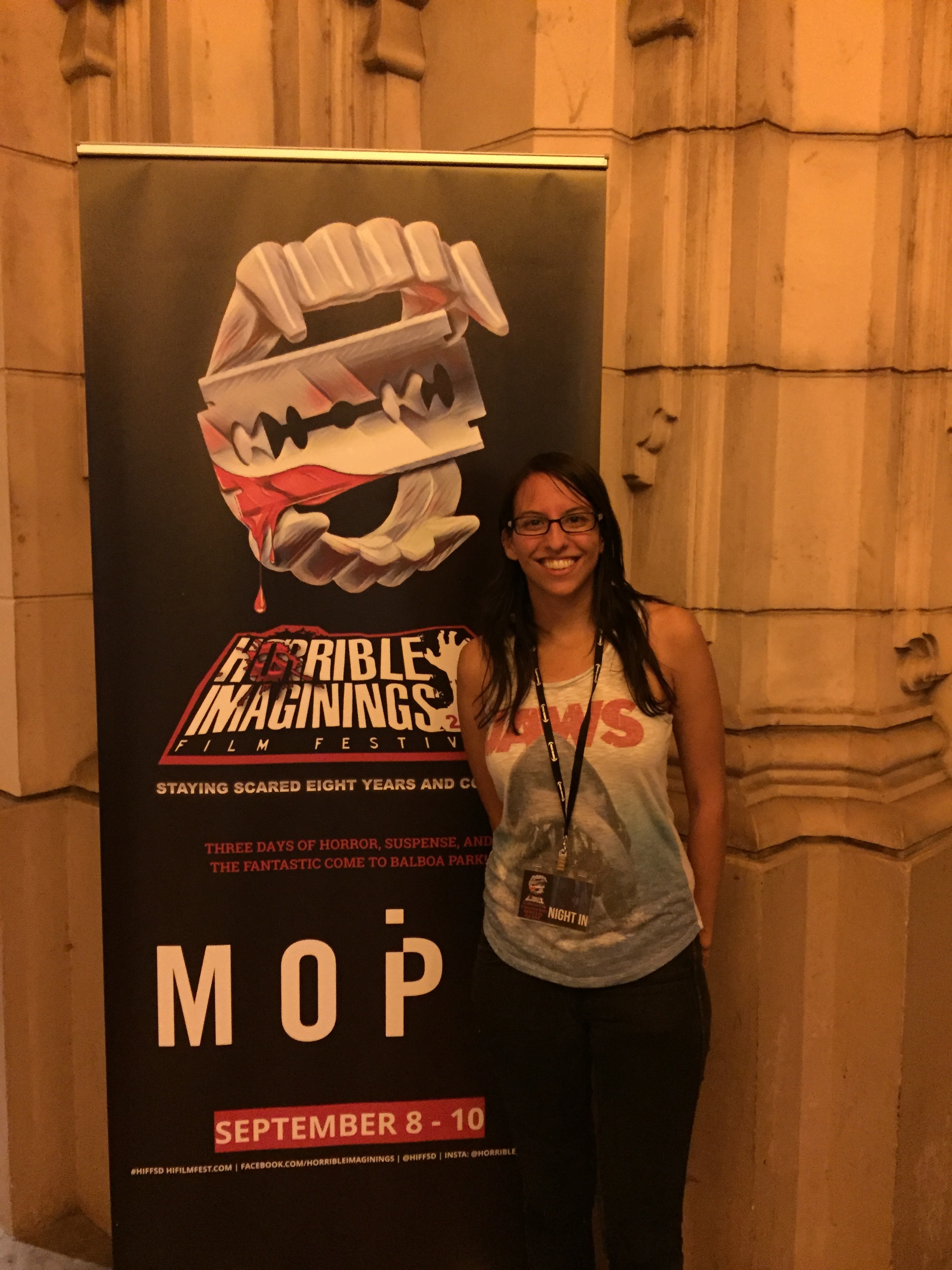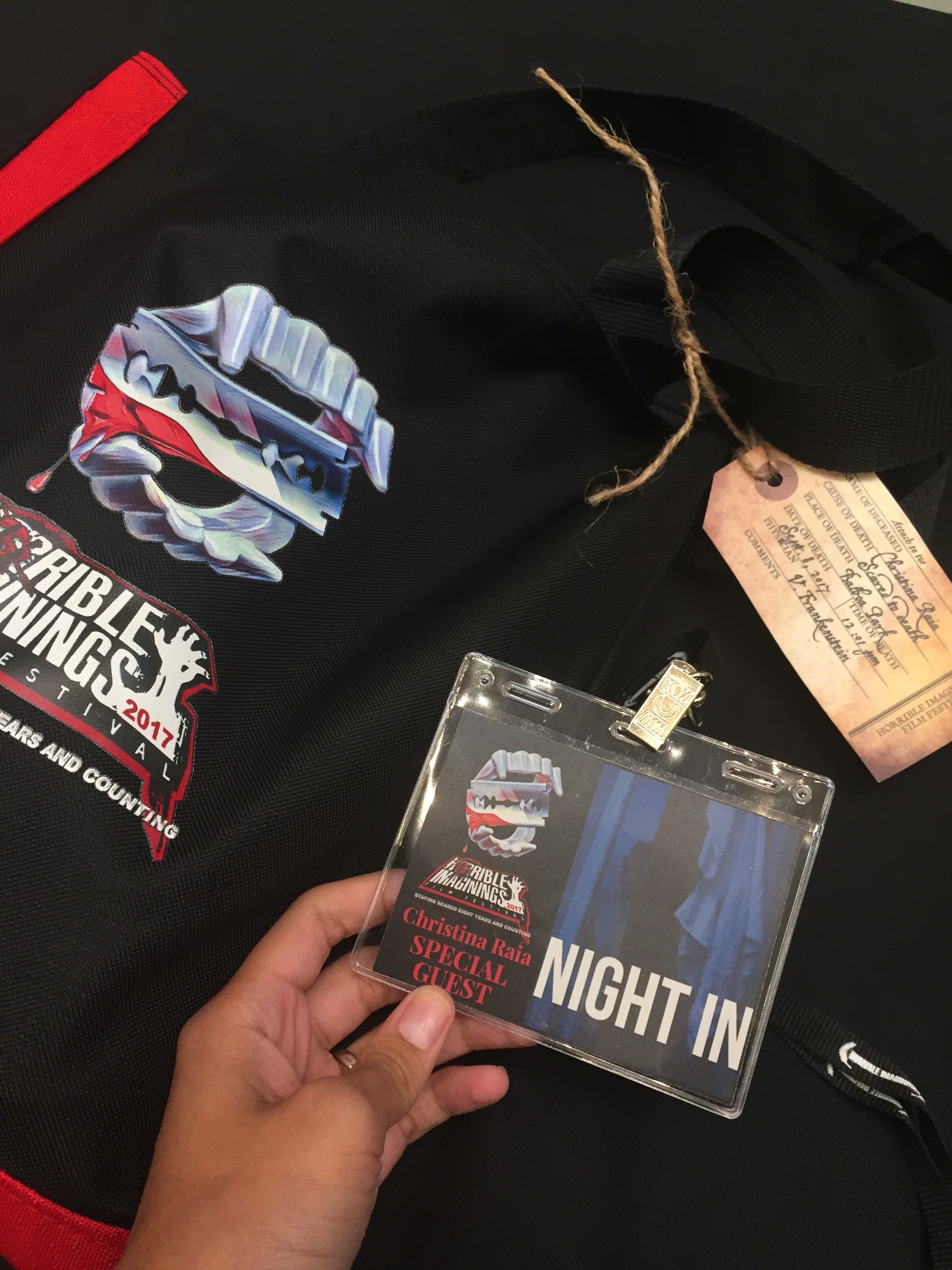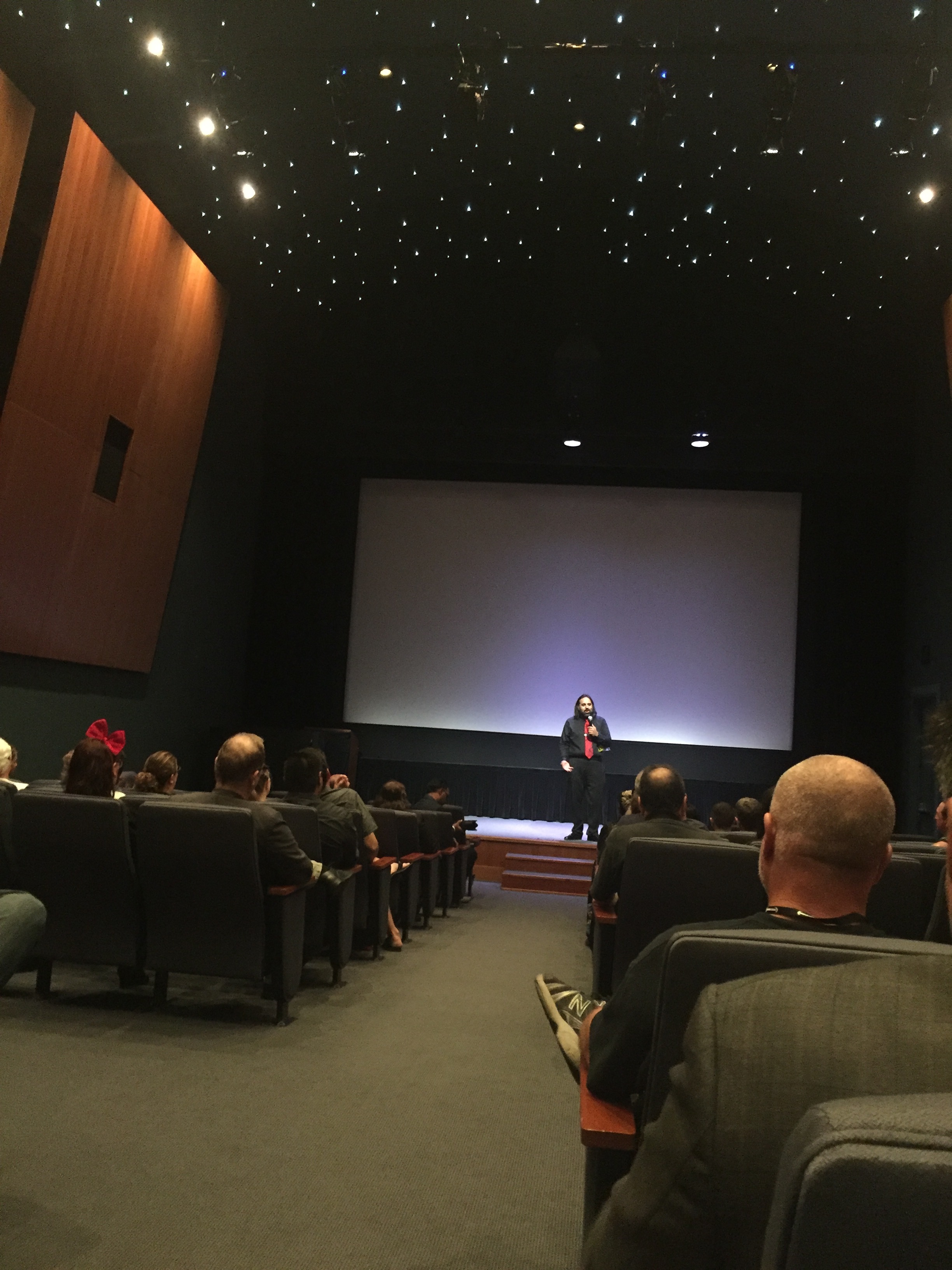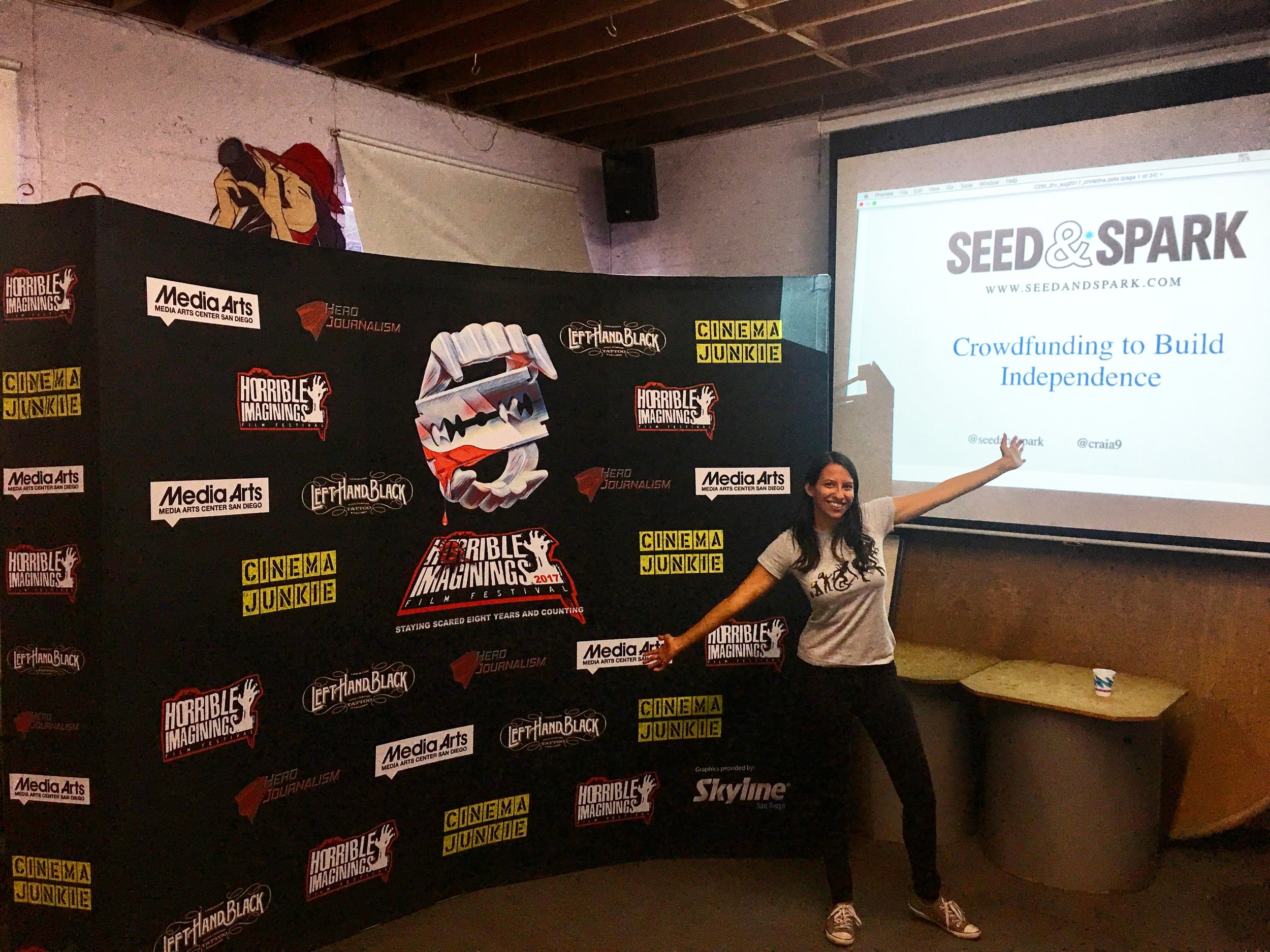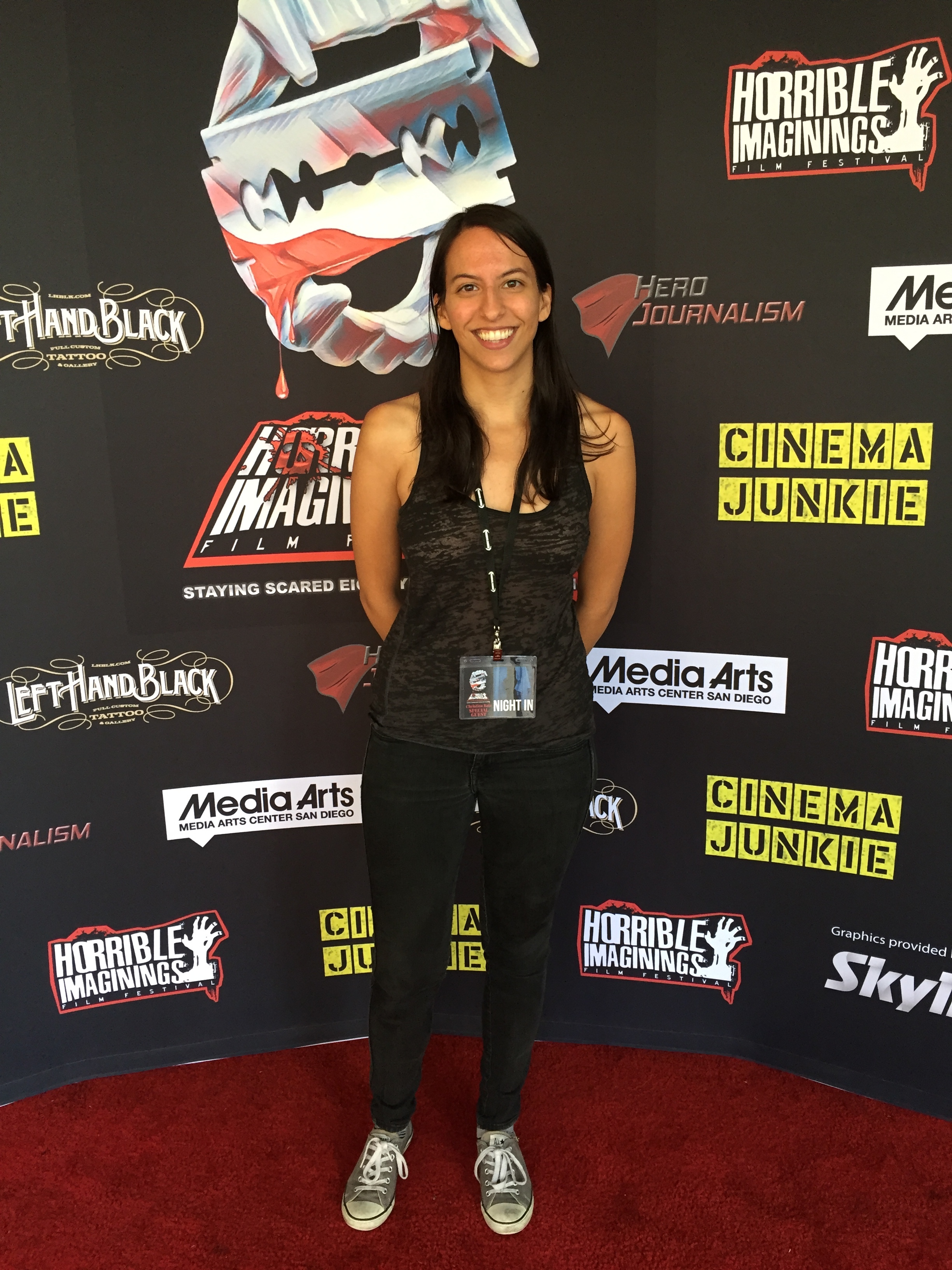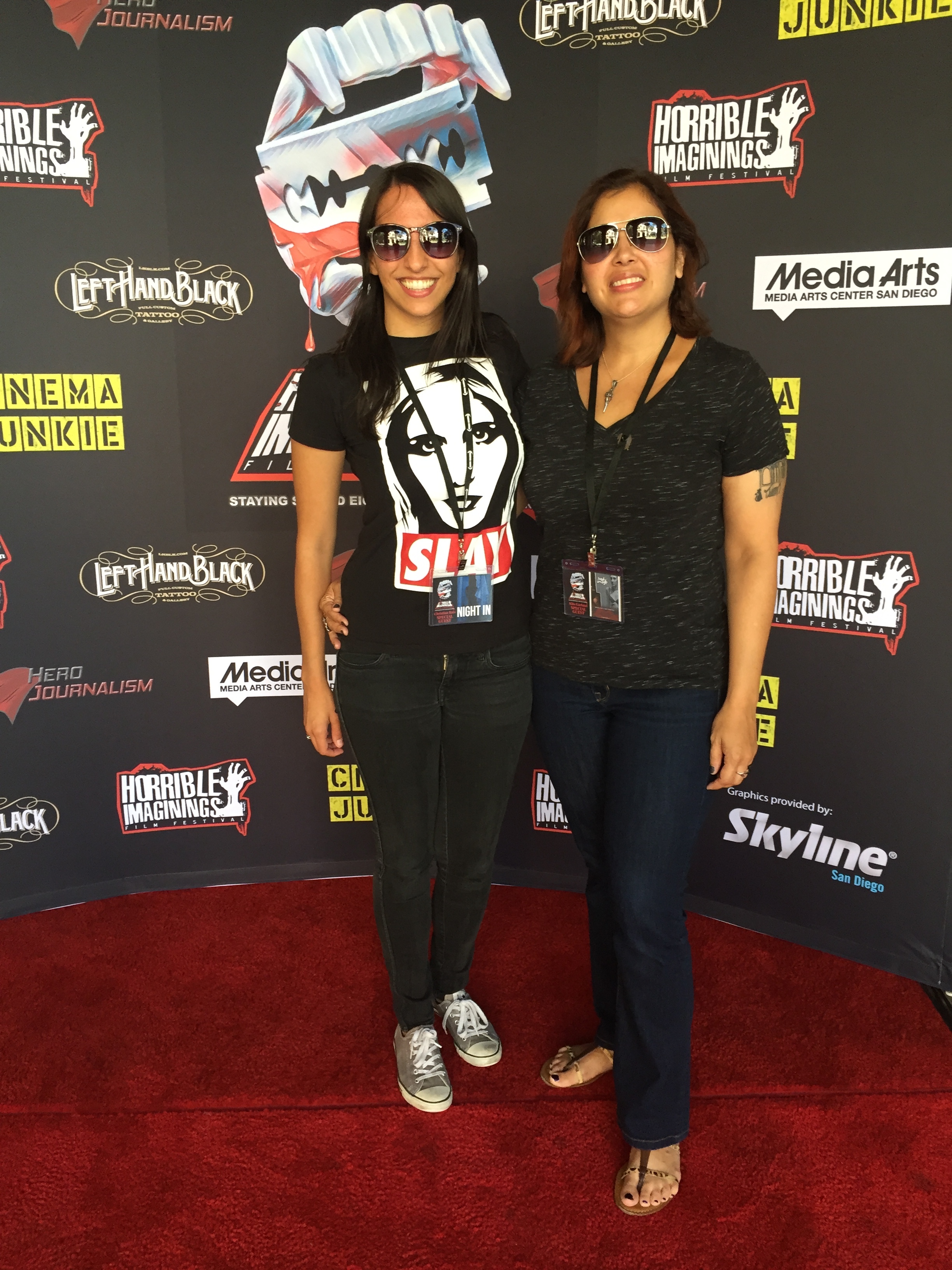 Here it is, Christina's short "HELLO," shot back in March 2015. We've finally premiered it online!
Read about past screenings, Coney Island Film Festival, Ax Wound Film Festival & Macabre Faire Film Festival.
See behind the scenes and the making of HERE.
Director Statement:
For two years, I was an Instructor for a mobile film workshop, which meant spending one week out of every month in a hotel room. I was always very aware of how alone I was despite being surrounded by strangers in other rooms. I was never personally lonely, but there's a certain loneliness to hotel rooms that you can just kind of feel. People pass through, never settling in, never making it a home. I often found myself thinking about all the stories that passed through; all the strange, unsettling, hopefully sometimes wonderful memories made there, and the potential 'ghosts' that lingered. This combined with my tendency to wonder about my room possibly being haunted led to the inspiration for "Hello."
One night after a long day at the workshop, when I couldn't sleep and found myself paying very close attention to the silence, the almost eerie silence of the room, I started freaking myself out with the possibility of not being so alone after all. In an attempt to appease my growing trepidation, I started pondering about ghosts; what would make them linger, what they could really want from a living person. I started entertaining myself with the notion of a ghost simply being lonely & bored -- especially having to watch all the people pass through the room they may haunt, and just wishing to make a connection with someone. As a huge horror film fan, I thought of all the cliche things that often happen as signs of a haunting and tried to find a funny, sweet or mundane explanation for them on the part of a ghost. Soon I was writing the script; and though I didn't get any sleep that night, I started the next morning very excited about this new script I had just written. I shot the film on no budget two months later and am very pleased with the final product, thanks to my small but mighty team of talented collaborators.